Keb' Mo' performs in The Current studios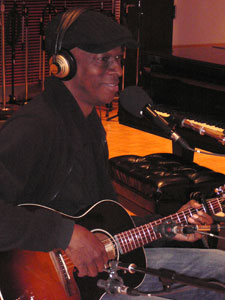 Keb' Mo' doesn't like to be pigeon-holed. But he is. Often. Born Kevin Moore in South Los Angeles, he was raised on gospel, played R&B and pop, but was later influenced by jazz and blues and now is widely known as one of the country's best blues singer-songwriters. However, his pop influences show up in all of his albums, his latest being "Suitcase".
Keb' Mo' was in town to perform with his band at a fundraiser for the Children's Cancer Research Fund, and stopped in the studio to chat with Dale and Jim Ed.
Songs performed: "Just Like You," and "Life is Beautiful."
Guests
Resources