The Owls perform in The Current studio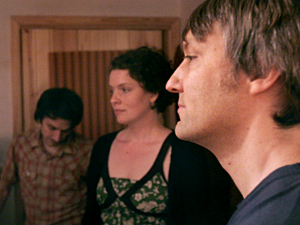 "Finally" is quite often the first word that comes to mind when people hear that local indie-poppers The Owls are finally releasing a full-length album. Their follow-up to 2004's "Our Hopes And Dreams" EP, "Daughters and Suns" continues to be loaded with male-female vocal harmonies and catchy melodies.
Songwriters Brian Tighe, Maria May, and Allison LaBonne teamed up with drummer John Jerry on this record released by Portland's Magic Marker Records.
The Owls spoke with Barb Abney before their CD Release show taking place at The Cedar Cultural Center on Nov. 8, 2007.
Songs performed: "Spider Silk," "The Way On" and "All Those In Favor."
Guests
Resources
Related Stories