Ed Ackerson performs in The Current studios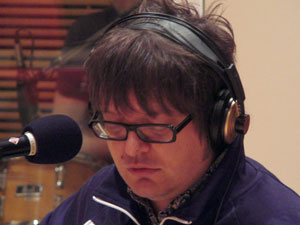 Local legend and Polara frontman Ed Ackerson has crossed several things off of life's to do list: make a band, write songs, produce records, start a record label, and engineer records. However, he's never recorded a solo album until now. Ackerson recorded and played all of the instruments on the acoustic meets electric indie-pop self-titled release.
While Ackerson obviously can't play every instrument during the live show, he's been playing with Eric Lovold (The Alarmists), Peter Anderson (Honeydogs, Tim O'Reagan), Marc Perlman (Jayhawks, Golden Smog, Son Volt), and Tim Oesau (Polara, Sideways). He stopped by our studios before the CD Release show at the Varsity Theater on Friday to discuss the origin of his solo album, what makes a good producer, and how his life as a musician has changed.
Songs performed: "Wired Weird," "Three Great Days,"
and "We Do Got Your Message."
Guests
Resources
Related Stories
MPR Fakebook with Laurie Lindeen The Current Fakebook returned with its final show of the series' first season as The Current's Mary Lucia welcomed Minneapolis-based musician and author Laurie Lindeen, along with a cast of rock worthies to help tell Lindeen's story.