Over The Rhine performs in The Current studio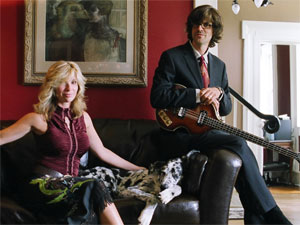 Johnny and June did it, so Karin Bergquist and Linford Detweiler are hoping they can be among those married couples who successfully write and produce music together. So far, it's working very well.
On stage, they're known as Over the Rhine and are celebrating 15 years of writing, singing, and performing together. Their latest record, "The Trumpet Child," is arguably their finest work with Karin Bergquist pulling out all the stops vocally.
They also have a new Christmas album, "Snow Angels."
Over the Rhine passed through Minnesota recently and found time to stop in and chat with Dale and Jim Ed in the Morning Show studios.
Songs performed: "I Don't Wanna Waste Your Time," and "North Pole Man"
Guests
Resources