The Get-Rites perform in The Current studio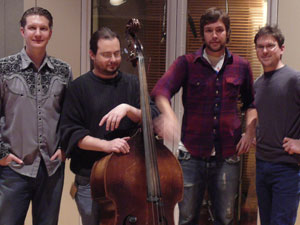 Harkening back to the music of the Louvin Brothers, The Get-Rites' country gospel songs don't leave out anything one needs to get converted. Tom Feldmann delivers the message in these songs right up front and lays the cards on the table.
The band's new record, "Pedal Steel Heaven" is releasing this week on Feldmann's Magnolia Recording Company label. Tom and the rest of the Get-Rites (Paul and two Jeds) were in the studio to play a few songs for Dale and Jim Ed in advance of the CD release.
Songs performed: "The Christian Cowboy," and "Pedal Steel Heaven."
Guests
Resources
Related Stories