Nellie McKay performs in The Current studios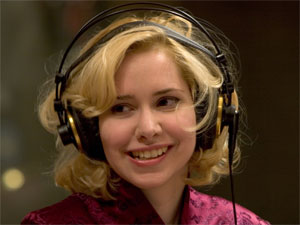 Nellie McKay was born in London, England and spent her teenage years in Poconos, Pennsylvania.
n 2000 she attended the Manhattan School of Music but after boredom set in, she dropped out of school and began performing as a stand-up comic in Manhattan clubs.
In 2003 Nellie opened for the Trachtenburg Family Slideshow Players at Tonic, and a writer from Time Out New York magazine attended the show and wrote a prominent feature on McKay. This started a bidding war as several record labels wanted to add her to their roster.
She eventually signed with Columbia/Sony and started producing her first record in the late summer of 2003.
Her debut CD, "Get Away from Me", is said to be the first double album released by a woman as her debut release. "Pretty Little Head" was Nellie's sophomore project, but because of artistic differences with her record label, she was let go and the project was never released on Columbia/Sony.
In October of 2006, McKay finally released "Pretty Little Head" on her own Hungry Mouse label. Less than one year later, McKay returned with a 30-minute "miniature" entitled "Obligatory Villagers."
Nellie McKay is also part of Aimee Mann's Second Annual Holiday Show.
Songs performed:
"Mother of Pearl," "A Christmas Dirge," and "Take Me Away."
Guests
Resources