Heiruspecs perform in The Current studios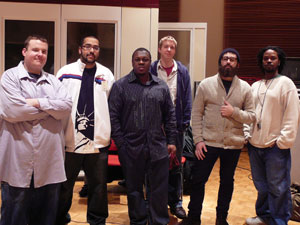 December 22, 2007 is Heiruspecs Day in St. Paul. After 10 years together playing live-band hip hop, it's about time their hometown honors the contribution to the local music community they've made over the years.
Over the course of their careers - which started at St. Paul Central High School - they've built a following, released a major label record, toured extensively, totaled their van, worked on other projects including Ela, Minus The Bear, and Big Trouble, and are now back with new songs.
They stopped by The Current studios to play three of those new songs and chatted with Mark Wheat about the past, present, and future of Heiruspecs.
Songs performed: "Guns And Knives," "I Know," and "Some From None."
Guests
Resources
Related Stories
The pride of St. Paul The Twin Cities are home to one of the most thriving hip hop scenes in the country. It's a scene that arose on its own, independent of the mainstream rap world which emanates from the coasts. One group that epitomizes this "homegrown" spirit is Heiruspecs of St. Paul. Heiruspecs, who's founding members met seven years ago at Central High School, is heralding the release of a new CD. It's called "A Tiger Dancing."