Ann Reed talks about the Song for Minnesota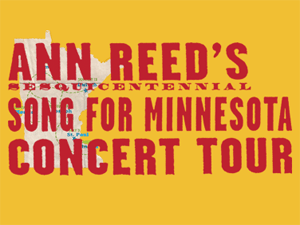 You can bet Ann Reed will not try to rhyme "sesquicentennial" in her Song for Minnesota. Or will she?
That's one of the tasks ahead of her as she embarks on a statewide tour of concerts to gather audience input on what will be a new song for Minnesota's 150th anniversary.
Ann Reed's concert tour will take her to Duluth, Morris, St. Joseph, Bemidji and Winona. She'll wrap up the tour with a final concert at the Fitzgerald Theater in St. Paul in May.
Listeners are invited to help write the song through the Minnesota Public Radio Web site.
Before the first leg of the tour, Ann stopped in the Morning Show studios to chat with Dale and Jim Ed about what the new song will be, or won't be, depending on what listeners say.
Guests
Resources
Related Stories
1 Photo
Ann Reed.

(Photo courtesy of Ann Reed

)