The Bird and the Bee perform live in The Current studios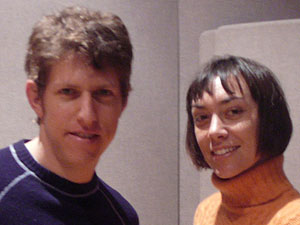 What started as a side project for two friends to collaborate and just have fun has become quite a bit more. In just over a year since their last stop by our studios Inara George and Greg Kursten have released a full length an Ep and they're just about to release another EP next month.
While they were in the studio they discussed civililzed touring; a mysterious iPod commercial, their upcoming releases both together and with solo/production projects. Violent Femmes, Phil Collins and Tim and Eric Awesome Show, Great Job were also briefly mentioned.
Songs performed: "Again & Again," "Polite Dance Song," and the Bee Gees cover "How Deep Is Your Love."
Guests
Resources
Related Stories
The Bird and the Bee perform in studio Inara George (Bird) and Greg Kurstin (Bee) do just fine without each other. He's a well-respected and in-demand producer and keyboardist and she's got a solid solo career going. They formed The Bird and the Bee to collaborate on jazzy electropop.
Inara George performs in studio Inara George performs "Fools Work," "Genius," and "Famous Blue Raincoat"