G. Love performs in The Current studios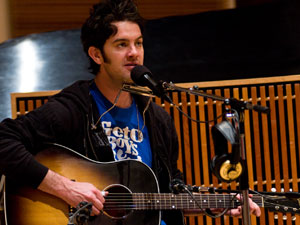 With influences such as Bob Dylan, John Hammond Jr., The Beastie Boys, Run-DMC & Schooly D, you'd probably wonder what the music of G. Love would sound like.
You'd have to hear it to believe it!
Garrett Dotton III also known as G. Love was born in Philadelphia, PA. He began playing guitar at the age of 8 and wrote his first song by the time he was a freshman in high school.
After relocating to Boston, G. Love met drummer Jeffrey "The Houseman" Clemens in January 1993 and a few months later were joined by bassist Jim "Jimi Jazz" Prescott and became the house band at The Plough and Stars in Cambridge, Massachusetts.
G. Love's latest release is entitled "Oh Yeah" (The Original Demos: 1992).
Songs performed: "Beautiful", "Gimme Some Lovin" & "Superhero Brother"
Guests
Resources