Ann Reed talks about the Song for Minnesota - Part 2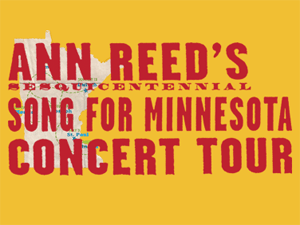 "Quota," "iota," and "Abe Vagoda" are three of the several hundred suggestions for things that rhyme with Minnesota, so Ann's got that covered.
Ann has a new question: What should the song say about your favorite part of the state? Consider towns, landmarks, flora, fauna, and the feeling that you get from all of the above.
Ann Reed's concert tour will take her to Duluth, Morris, St. Joseph, Bemidji and Winona. She'll wrap up the tour with a final concert at the Fitzgerald Theater in St. Paul in May.
Before the second stop of the tour in Morris, Ann stopped in the Morning Show studios to chat with Dale and Jim Ed.
Guests
Resources
Related Stories
1 Photo
Ann Reed.

(Photo courtesy of Ann Reed

)