Mike and Tom Mangione perform in The Current studio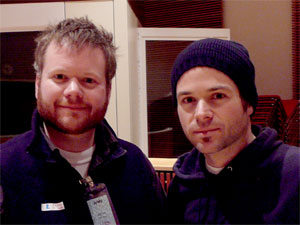 Brothers Mike and Tom Mangione have influenced each other musically from their earliest days. Tom studied guitar with a teacher who had a glass eye, so the teacher didn't see that Tom was playing upside down until three months into lessons. When the mistake was discovered Tom figured he had already learned too much to turn back.
Mike's first chord was the upside down E he learned from Tom. Together they've made a career of playing the instrument incorrectly.
They visited Dale and Jim Ed in the studio to talk about their newest recording, Tenebrae.
Songs performed: ""It's A Hard Road To Crawl," and "The Killing Floor."
Guests
Mike Mangione
Tom Mangione
Resources