Toumani Diabate performs in The Current studios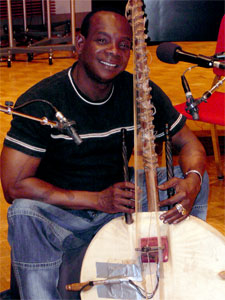 Toumani Diabate comes from a long family tradition of kora players including his father, Sidiki Diabate, who recorded the first ever kora album in 1970. Diabate released his debut solo album in the West, entitled Kaira, in 1987.
In addition to performing traditional Malian music, he has collaborated with flamenco group Ketama, released an album with Taj Mahal entitled Kulanjan, and has also collaborated with Bjork on her 2007 album Volta.
In September 2005, he released In the Heart of the Moon, a collaboration with the late Ali Farka Toure, his mentor. The album won the 2006 Grammy Award for Best Traditional World Music Album and in July 2006 he released Boulevard de l'Independance, recorded with his Symmetric Orchestra.
Toumani's latest project entitled, "The Mande Variations" will be released in Feb, 2008.
Songs performed; "Kaira," "Elyne Road," and "Bany."
Guests
Resources
1 Photo
A close-up of Tourmani Diabate's kora. Built from a large gourd called a calabash which is cut in half and covered with cow skin. It has a notched bridge like a lute or guitar.

(Minnesota Public Radio / Derrick Stevens

)