Neal Hagberg performs in The Current studio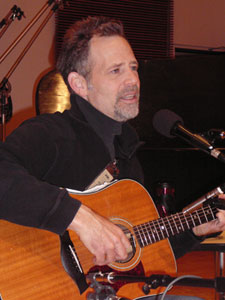 "This isn't 'Old Love'"
That's what you'll hear from Neal Hagberg when he talks about his new solo project. Over the past several years singing and touring with his wife Leandra, Neal has collected ideas for songs that don't necessarily fit the Neal and Leandra mold. In fact, the songs are a definite departure from the duo's act and are meant to make the listener feel a tad bit uncomfortable, and challenge fears and beliefs.
The project resulted in a collection of songs entitled, "It's Not As Simple As It Seems", and Neal stopped by the Morning Show studio to sing a few songs.
Songs performed: "If Grace Is True" and "When That Morning Comes"
Guests
Resources
Related Stories
Neal & Leandra perform in studio It's been twenty years since Neal and Leandra starting singing together. Since then, they've released several recordings, got married, started a family and have made a career out of their music and engaging personalities.
Neal and Leandra perform in studio Neal and Leandra perform "Toyland," "Boswell's Lights," "Fool," and "Esta Noche"