Connie Evingson performs in The Current studios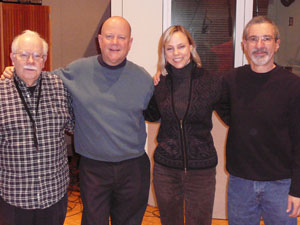 Local jazz singer Connie Evingson has a new CD out, "Little Did I Dream" - a tribute to the witty local songwriter Dave Frishberg. This is not the first time Evingson has paid tribute to an artist with local roots, but she said she's always been a fan of Frishberg's and the project was long overdue. Frishberg was born in St. Paul and attended the University of Minnesota. He lives in Portland, Oregon now.
During the recording of the album, Frishberg was in the studio and played piano and even sang a little with Connie. She's celebrating the release of the CD with a concert at the Dakota.
Connie Evingson and her band stopped in the studio and played a few tunes for Dale and Jim Ed on The Morning Show.
Songs performed: "Peel Me A Grape" and "Eastwood Lane"
Guests
Resources
Related Stories
Connie Evingson and the Hot Club of Sweden Twin Cities vocalist Connie Evingson already had a "hot club" jazz record out so she was ready to move on to her next project. But then she met the Hot Club of Sweden on a winter trip to Stockholm. The result is a new CD, "Stockholm Sweetnin'," that was released this summer in Minnesota.
1 Photo
Saxophonist Dave Karr

(Minnesota Public Radio / Mike Pengra

)