Ann Reed and the Song for Minnesota, Pt. 4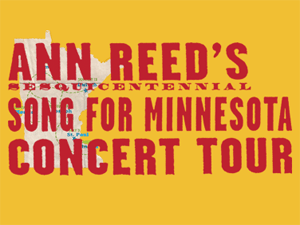 "I'm going to be writing songs about Minnesota for the rest of my life!", says our friend Ann Reed. Ann has been traveling the state in a series of concerts and collecting ideas for her Song for Minnesota. She says she's got LOTS of ideas and lots of input from listeners, but still wants more.
Ann's next concert is Thursday, Feb. 28th at the Paul Bunyan Playhouse in Bemidji and the whole project culminates at the Fitzgerald Theater May 3rd.
She stopped in the studio before the Bemidji show to update Dale and Jim Ed about the project.
Guests
Resources
Related Stories