Pert' Near Sandstone performs in The Current studio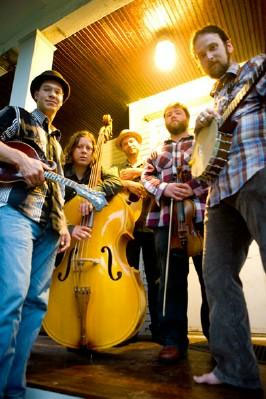 They call themselves a "new-timey string band", but if you see them in action you would say they're a steamroller of energy. Pert' Near Sandstone plays bluegrass, both original and traditional, but they bring the old music to a young audience with their enthusiasm, tight harmonies and class. They hail from the Twin Cities metro area, but are traveling all over the US with their music.
They're headlining this week at First Avenue in Minneapolis as part of "A Night for Lyndale Elementary", a one night fundraiser to purchase musical instruments for the children of Lyndale Elementary School.
The band, along with their clogger, stopped by the Morning Show studio to chat with Dale and Jim Ed.
Songs performed: "The Story of You, Me and Your Mama" and "Okanagan Valley"
Guests
Resources