Karen Savoca and Pete Heitzman perform in The Current studio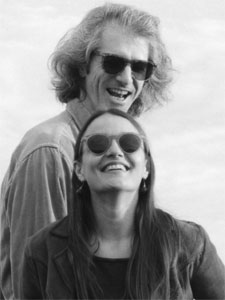 Karen Savoca and Pete Heitzman are making a pass through Minnesota. The duo, from upstate New York, originally started as a band, but have honed their sound down to a duo with Pete's amazing guitar work and Karen's voice and love for percussion.
Their latest album was recorded at their home studio (a converted 1890s church, complete with a graveyard), and they're working on some new material on the road right now for a record to come out next winter. Karen and Pete stopped by the Morning Show studio to premier some of that new music for Dale and Jim Ed.
Songs performed: "Without Me" and "Ghosts."
Guests
Karen Savoca
Pete Heitzman
Resources
Related Stories
Karen Savoca and Pete Heitzman - in studio Karen Savoca and Pete Heitzman keep things simple. They've won songwriting contests and have been offered recording contracts, but to this day they prefer to keep control of their music to themselves.