The Current Fakebook with Chuck D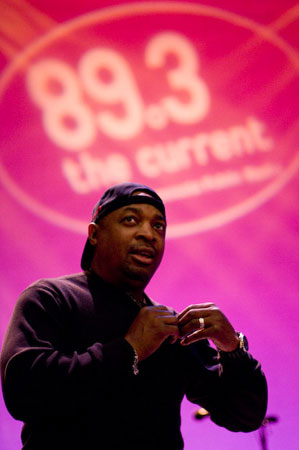 Host Mary Lucia welcomed Public Enemy founder, writer and activist Chuck D to the Current Fakebook at the Fitzgerald Theater on Saturday, April 19, 2008.
Joining them was Slug from Atmosphere for conversation and, as special musical guest, Brother Ali of the Rhymesayers Collective.
Songs performed:
Brother Ali, pt. 1 - "Truth Is" and "Uncle Sam"
Brother Ali, pt. 2 - "Letter from the Government" and "Day Like This"
Atmosphere - "Guarantees" and "Not Another Day"
Atmosphere and Brother Ali - "Take Me Home," "Pedigree" and "Freestyle"
Related Stories
Current Fakebook with Laurie Lindeen The Current Fakebook returned with its final show of the series' first season as The Current's Mary Lucia welcomed Minneapolis-based musician and author Laurie Lindeen, along with a cast of rock worthies to help tell Lindeen's story.
Current Fakebook with Chuck Klosterman Chuck Klosterman and Tapes n' Tapes were Mary Lucia's guest for The Current Fakebook. Klosterman is a writer and cultural critic. Tapes n' Tapes are the Minneapolis music scene darlings who exploded nationally and internationally in 2006.
More Video
8 Photos
Public Enemy founder, writer and activist Chuck D

(Minnesota Public Radio / Tylor Boland

)

Redefinition Host Kevin Beacham warmed up the crowd before the show.

(Minnesota Public Radio / Tylor Boland

)

Brother Ali performs at Fakebook

(Minnesota Public Radio / Tylor Boland

)

Brother Ali, his DJ BK One, and Atmosphere's Slug.

(Minnesota Public Radio / Tylor Boland

)

Host Mary Lucia, Chuck D, and Slug of Atmosphere

(Minnesota Public Radio / Tylor Boland

)

Chuck D and Slug of Atmosphere

(Minnesota Public Radio / Tylor Boland

)

Host Mary Lucia, Chuck D, Slug of Atmosphere, and Brother Ali

(Minnesota Public Radio / Tylor Boland

)

Slug of Atmosphere and guitarist Nate Collis

(Minnesota Public Radio / Tylor Boland

)
View 7 more photos