Neva Dinova perform in The Current studios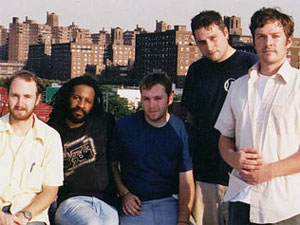 Named after the grandmother of vocalists and guitarist Jake Bellow, the Omaha five-some Neva Dinova are criss-crossing the country in support of their new album "You May Already Be Dreaming."
Released April 8, 2008 on Saddle Creek, this is the band's third album but first on the label. Neva Dinova have a strong connection to label mate Bright Eyes. In 2004 Neva Dinova released a split EP with Bright Eyes entitled "One Jug of Wine, Two Vessels," and Bellows continues to play with Bright Eyes on tour and in the studio.
Songs played: "Squirrels," "Super Computer," and "Tryptophan."
Guests
Resources