Ann Reed prepares to unveil the "Song for Minnesota"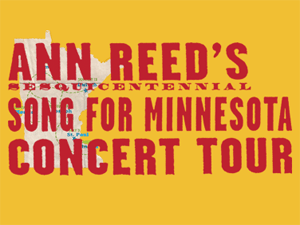 Ann is charged with writing a Song for Minnesota and has been taking suggestions from listeners. The Song is actually turning into several "Songs" for the state's sesquicentennial and Ann will be featuring all of them in concert on May 3, 2008 at the Fitzgerald with the help of her friends Dan Chouinard, Joan Griffith, Diane Jarvi, Leslie Ball, Dylan Fresco, and Sharon Day.
The Fitzgerald show is the culmination of a state-wide tour that began in January with Ann traveling to regional theaters to do a concert and also take ideas for a state song to help celebrate Minnesota's 150th anniversary.
Ann stopped by The Morning Show studio to give Dale and Jim Ed an idea of what to expect.
Guests
Resources
Related Stories