Dan Chouinard performs in The Current studios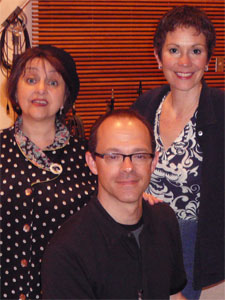 In the summer of 2002, Dan Chouinard bicycled around Europe with an accordion strapped to his back, and created music, made friends, and what turned out to be the contents of a staged musical variety show at the Fitzgerald Theater called, "Cafe Europa." The show was such a success that Dan has created the sequel, "Cafe Europa II."
Dan's family roots date back hundreds of years in some of the very towns the he traveled to, and the images in his head helped him write the script around the two shows.
Dan stopped in the Morning Show studio, along with singers Maria Jette and Josette Antomarchi to give us a taste of what's to come.
Songs performed: "The Three Bells," and "The Roses of Ispahan."
Guests
Resources
Related Stories
Dan Chouinard and "Mambo Italiano" Musician Dan Chouinard spent a summer biking across Europe with his accordion and fell in love with the countryside and the people. He brought home a deep appreciation for the music of Italy and its roots here in America.