The Morning Show Live at Minnesota State Fair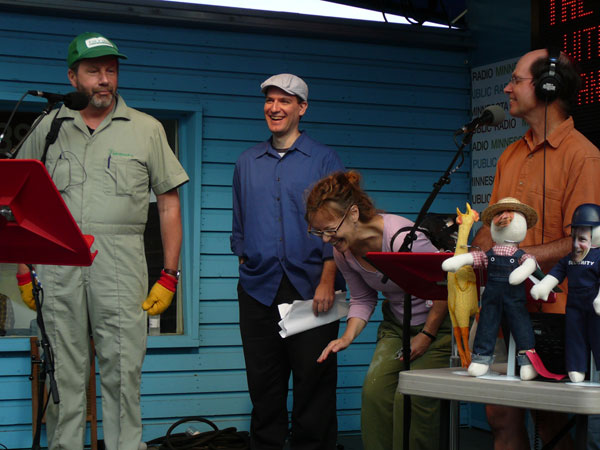 It's like clockwork: on the first Friday of every Minnesota State Fair, the Morning Show packs up the studio and moves out to the MPR booth at the fairgrounds for another live show. This year's featured guests were Dan Wilson, Ann Reed, and Pert' Near Sandstone.
It was also the 13th annual playing of the "Where's Eric" game with Eric Ringham and his nimble search party Ochen Kaylan and Leslie Ball.
Besides the music, some of The Morning Show's regular cast of characters made cameo appearances including Captain Billy, Bud Buck and Bubby Spamden.
It was a muggy morning, but the rain held for the standing room only crowd.
Guests
Dan Wilson
Ann Reed
Pert' Near Sandstone
Related Stories
4 Photos
Star-Tribune Commentary Editor Eric Ringham, "Eric Hunters" Ochen Kaylan and Leslie Ball, and Morning Show hosts Dale Connelly.

(Minnesota Public Radio

)

Singer/Songwriter Dan Wilson

(Minnesota Public Radio / Mike Pengra

)

Singer/Songwriter Ann Reed

(Minnesota Public Radio / Mike Pengra

)

Pert' Near Sandstone

(Minnesota Public Radio / Mike Pengra

)
View 3 more photos