of Montreal performs in The Current studios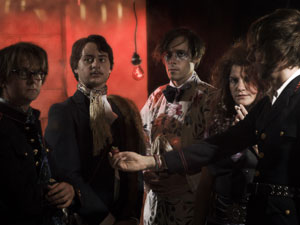 Kevin Barnes is the lead singer, guitarist and founder of "of Montreal". He's a native of Athens, GA, but lived in Florida, Cleveland, and Minneapolis before returning to Athens.
of Montreal's debut album, "Cherry Peel" was released in mid-1997 and since then, the band has recorded a total of eight studio albums with their latest being "Skeletal Lamping" in 2008.
Over the years, they've released several EPs, they've had tracks appear on numerous compilations and of Montreal songs have also been featured on soundtracks.
Songs performed: "Triphallus To Punctuate!" "Touched Something's Hollow," and "An Eluardian Instance".
Guests
Resources