Ryan Adams performs in The Current studios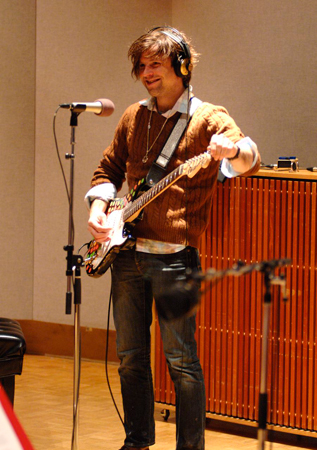 Ryan Adams may have left behind the confines of the "alt-country" genre long ago, but the moniker still tends to cling to him - despite having spent a fair chunk of the past decade-plus making music that has drawn from a broad and deep well of influences.
His most recent CD, "Cardinalogy," is his latest with his band The Cardinals, and it's been praised by critics as a continuation of the increased artistic focus Adams and the band demonstrated on last year's "Easy Tiger."
One might not describe the band's visit with Steve Seel as "focused," but what it lacked in predictability it made up for in a careening discussion about magic jewelry and tour-bus-chess, and an improvised punk ode to the Target Center.
Songs performed: "Fix It," "Magick," and "Evergreen."
Guests
Resources
6 Photos
Bassist Chris Feinstein and Ryan Adams

(Photo: John Nicholson

)

Guitarist Neal Casal

(Photo: John Nicholson

)

Singer / Songwriter Ryan Adams

(Photo: John Nicholson

)

Singer / Songwriter Ryan Adams

(Photo: John Nicholson

)

Singer / Songwriter Ryan Adams

(Photo: John Nicholson

)

Singer / Songwriter Ryan Adams

(Photo: John Nicholson

)
View 5 more photos