Album Review: Neko Case - Middle Cyclone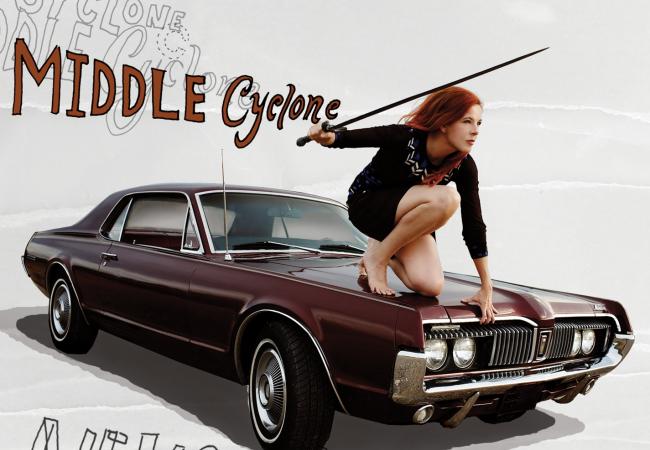 Just who is Neko Case and why is she quietly making some of the most provocative albums of the last decade when she possesses one of the biggest voices in the indie-rock world? Everyone wants to know. To hear her story is to become curious. To hear "the voice" is to become enamored and inquisitive. To see her perform ... well, that's where most fall in love; it is inevitable. It is also imperative for Neko's career to work. You see, Neko is not easy, nor obvious - it's not really pop and calling it alt-country is nothing more than lazy. So who is she anyway and why should we meet her half way and if we do, will it be worth it?
Neko's fifth studio album in 12 years, Middle Cyclone, is a timeless and genreless collage of sounds and styles. The key word here is versatility - both Neko and the rest of the musicians involved. Guest appearances by M. Ward, members of The New Pornographers (her other band), Los Lobos, Calexico, The Sadies, and most appropriately Garth Hudson of The Band are welcome additions to an already crack crew of her longtime touring band. Perhaps her most personal and lyrically dense to date, Middle Cyclone is another piece of the puzzle revealed. Dense with the natural imagery and animals references that have been constant in her work from her first album "Blacklisted" on, Neko talks about life (possibly her own) and love (perhaps her own) with a clarity that seemed to be lost in the imagery on albums past. Middle Cyclone is loaded with this. What it is not loaded with is hits. It is a headphones album and an evening album and a sneaky album, which will confuse you at first and leave you wondering, but will have you completely and for good by the third listen.
I once read somewhere that Neko intended to build her following the old fashioned way: "one fan at a time." She wasn't kidding. An actively updated website and the requisite social networking outposts are new only in the last three years. What is not new is an uncompromising adherence to her own unique artistic vision and voice. As the muse calls Neko responds in her own time and in her own way.