Album Review: Metric - Fantasies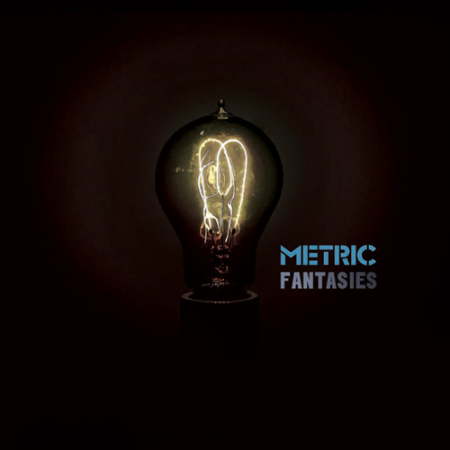 Metric holds a soft spot in my heart next to beer and grilled cheese sandwiches -- all things that I never get sick of. With the release of their fourth album and first since 2005's "Live It Out," "Fantasies" is a well-balanced mix of Metric's New Wave beginnings that were solidified in the previous three albums with a push towards straight-forward pop-tinged rock. It also features the softer, poetic side of Emily Haines. Metric could easily find its way into the hearts of fans of Garbage, Stars, Veruca Salt or Yeah Yeah Yeahs.
The Toronto- and Brooklyn-based band has decided to release this record DIY-style. Getting only promotional help from Last Gang Records in Canada and Arts and Crafts in Mexico, they are handling the release of "Fantasies" in the US without the help of a label.
"Fantasies" begins with the haunting lyrics, "I tremble/They're gonna eat me alive" on the pulsing song "Help, I'm Alive." The album meanders through catchy hooks and infectious sing-able choruses, like those on "Sick Muse" and "Gimme Sympathy"-which despite its depressing title could easily be a dance hit. The album hits its apex at "Collect Call." Freezing the listener in time with its stark contrast to the rest of the album, the song sounds more like something on one of Haines' solo efforts. Dancing over delicate guitar and synth, Haines' deep yet vague introspective lyrics provide a blurry view into her psyche.
After the momentary diversion, Metric finishes "Fantasies" just as strong as it started. "Stadium Love," the final track on the album, has an epic feel -like the listener is experiencing the end of a rock show complete with the urge to pump your fist, crowd-dominated oooh-oooh-ooohs, air drum-able fills, and guitar distortion that fades out as the band exits.
I know we're barely through a third of 2009, but I'm getting a strong sense that this album will end up on my year-end list. You'll have to check back in December when we start voting for the Top 89 of 2009.
Resources
What is Spotify?
Related Stories