Halloween, Alaska performs in The Current studios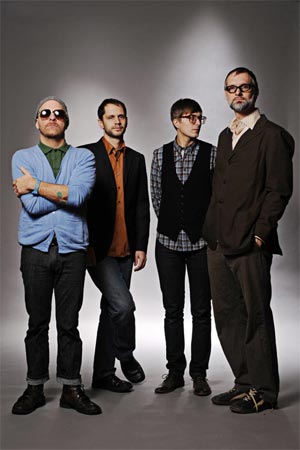 Minneapolis natives Halloween, Alaska have been swiftly spreading their musical prowess since their formation in in 2002.
The semi-electronic quartet released "Champagne Downtown" in April of 2009. This project has been anxiously awaited since they exploded on the indie-music scene in 2005 with their passionate, disarming style.
Songs performed: "Champagne Downtown", "Knights Of Columbus", "Jerk California" and the Web-exclusive "The Ends."
Guests
Resources
Related Stories
Halloween, Alaska perform in studio Halloween Alaska perform "All the Arms Around You," "Des Moines," and "Drowned"
Halloween, Alaska draws on big names to celebrate.... the 80's? Members of three prominent Twin Cities musical groups, Happy Apple, 12 Rods, and Love Cars are taking a break from their noisier roles as rock and jazz musicians. They've formed a new band called Halloween, Alaska. The group describes its songs as quiet, mood pop, with a heavy nod to one of its favorite musical eras, the 1980s.