Theft of the Dial: Andrew Bird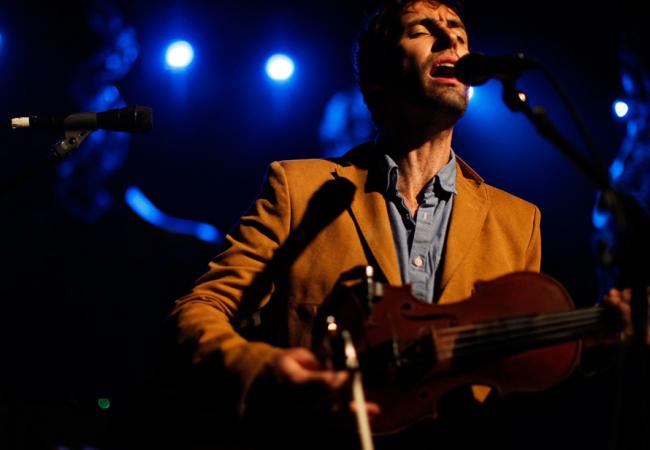 Right after performing an awesome set in our UBS Forum and being grilled by Steve Seel, Andrew very kindly let me guide him through the process of being a DJ. He had never done it before and seemed curious to try. He explained how listening to "Blues Before Sunrise" on a station near his home in Illinois when he was young was an inspiration to him. It ran overnight and he would put a tape in when he went to sleep and wake up to turn it over!
That's probably when he first heard artists like Charlie Patton, played on old 78rpm vinyl records! The African, polyrthymic tracks in the centre of his set are both from "Ghana Soundz" compilations. He likes the way that all the instruments lock into one groove. The Cass McCombs track is from the '03 album simply entitled 'A'. Andrew expressed amazement at how Cass can construct songs out of such bewildering lyrical constructions. Interesting, as he had explained earlier to Steve how the new songs on his own 'Noble Beast' were the first that he had tried to get the lyrics down first before finishing the rest of the song. He then explained that the way his band plays, with his and Martin Dosh's loops interweaving means that the songs are never the same twice. They become a precarious tightrope act live, a kind of jazz, as they improvise around the results that they can never completely control. So ending the set with a little jazz was appropriate. And look for him to cover the song he kicked off with sometime also a favourite of mine from the hugely talented Bill Callahan;
Smog - Cold Blooded Old Times

Oscar Sulley & The Uhuru Dance Band - Olufeme

Oscar Sulley & The Uhuru Dance Band - Bukom Mashie

Charlie Patton - Shake It Break It

Django Reinhardt - I Cover The Water Front

Cass McCombs - I Went to The Hospital

Lester Young - The Man I Love

This new feature is very fulfilling, the musicians react in a totally different way than when talking about their own music. They come up with ways of describing music in a different way from fans, DJ's and critics.
Andrew also shared his near-electrocution story from last years Rock The Garden! He admitted that the band was not happy with the way the show was going before the short thunderstorm moved in. They nailed it when they came back on however for what many people described that day as a magical musical moment. Let's hope we get more of those this year, without any threats of electrocution!