Theft of the Dial: Half of Death Cab For Cutie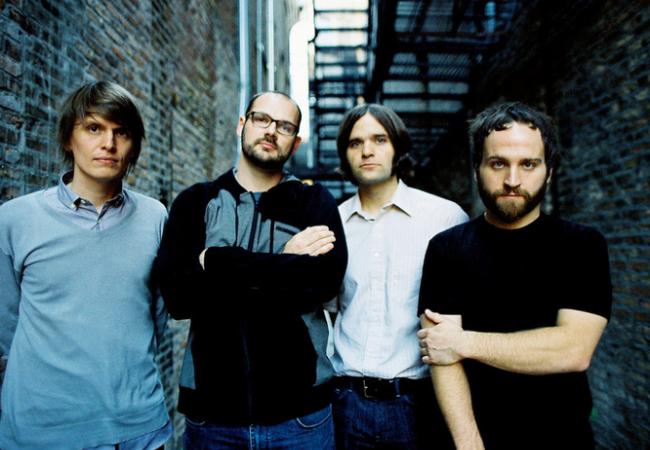 Bass player Nick Harmer and guitarist/producer Chris Walla of Death Cab For Cutie both did radio while in college, and talked about how it had influenced their band. Chris also told a great story of buying a Shellac single because it had a photo of Todd Trainer's bedroom with all the recording equipment set up. The diagram of how to plug everything in on that 7" sleeve was Chris' blueprint to set up his first studio to record his friends on an eight track...he also revealed that it was either that 8-track or ski equipment as a purchase. Boy were we lucky!
They evidently love being in a band so that they can discuss music all day and took it in turns to pick the songs and tell the stories. They did reveal that the changes in the music business are affecting their decision making process. They now have to tour more to make their living and take less time in the studio. They also admire Jack White and his philosophy of NOT taking too much time in the studio, inducing Chris to say; "You know, rock'n'roll's dispensable!"
Pale Young Gentlemen - Marvelous Design
- Chris found this Madison group through their producer Bo.
TV on the Radio - Dancing Choose
- Nick wants to shop and ride in elevators to these guys!

Emily Haines & The Soft Skeleton - Reading In Bed
- Chris's intrigued by Emily's postal service connection to Robert Wyatt!?!

The Dead Weather - Hang You From The Heavens
- Nick thinks Jack White is the best exanple of how to be a rock star!

The Gaslight Anthem - The 59 Sound
- Tegan & Sara, liked the GA sound so their diligent producer Chris bought it.

Antony & The Johnsons - Knocking On Heaven's Door
- Nick appreciated Antony reclaiming this song from Guns'n'Roses!

We introduced the segment with a track from their new Open Door EP "A Diamond and a Tether" which also includes a demo version of "Talking Bird" with Ben playing a ukelele. Apparently he has another side project based on the uke coming in the summer! We went into a Tragically Hip track from their new album. Chris is a long time fanand will be producing Gordon Downie's next cd as well as the new Tegan & Sara.