Album Review: Wilco - Wilco (The Album)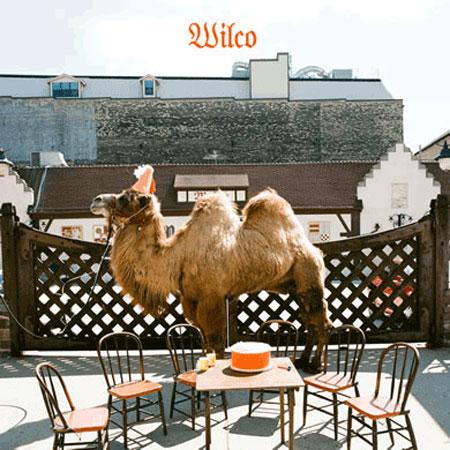 Wilco returns with its seventh album which I'm reviewing with a heavy heart as I remember the late Jay Bennett, a key contributor on such Wilco classics as Being There, Summerteeth and Yankee Hotel Foxtrot, who was found dead in late May.
Wilco has been fun to watch since the 1995 debut album, AM, and has a pretty good track record to date. I don't think they've ever made a bad album, but since the beginning I've expected the unexpected. So it's interesting that their current album brings me back to the golden-era sound of late-60s/mid-70s AM pop radio.
Wilco (the album) isn't really that unexpected. It could almost pass for leftovers from the Sky Blue Sky sessions. But these are five-star restaurant leftovers — the kind that are better when you reheat them at home! Especially when the take-out container features the tasty licks of guitarist Nels Cline, the group's secret weapon for the last couple albums, although he's in a more restrained state for this one. Another key player is piano man Mikael Jorgensen, whose groove is the foundation of many songs including the album's opener, "Wilco (the song)," which Tweedy may have written as a nod to the group's longtime fans. "Do you dabble in depression/Are you being attacked?/Oh, this is a fact that you need to know/Wilco will love you, baby!" That piano is also evident on the album's most adventurous song, "Bull Black Nova," which is full-on rock with a piano-driven groove. Tweedy's vocal builds to a scream amidst of cacophony of noise led by Cline.
Let's not forget that Jeff Tweedy is the star of the show here. He's all about the songs, and is developing into a classic "great American songwriter" with something to say. Take the song, "You Never Know." "Come on children you're acting like children/Every generation thinks it's the end of the world." He could be addressing Armageddon, or the doom and gloom of these "tough economic times." The song also features Cline's rather obvious nod to George Harrison's "My Sweet Lord," which the quiet Beatle actually borrowed from The Chiffons hit, "He's So Fine." Harrison pops up again on "Sunny Feeling" where the slide guitar sounds like it's straight out of the '70s hit, "Crackerbox Palace."
The up-tempo ballad, "I'll Fight," has the sad refrain, "I'll die for you," sweetened by B-3 organ and pedal steel guitar. It's a breezy little southern soul number that could have been written by songwriter Dan Penn. I think the album highlight is "Deeper Down," featuring Tweedy's amazing ragged and soulful vocal. Feist even makes an appearance, as Wilco's first ever special guest vocalist, on the pretty, "You & I."
For what this album lacks in adventure it makes up for in song. Wilco (the album) is a comfortable album with a soulful, vintage feel. Wilco has still not made a bad album. Album number 7 sits nicely amongst the band's already impressive body of work.