Album Review: Son Volt - American Central Dust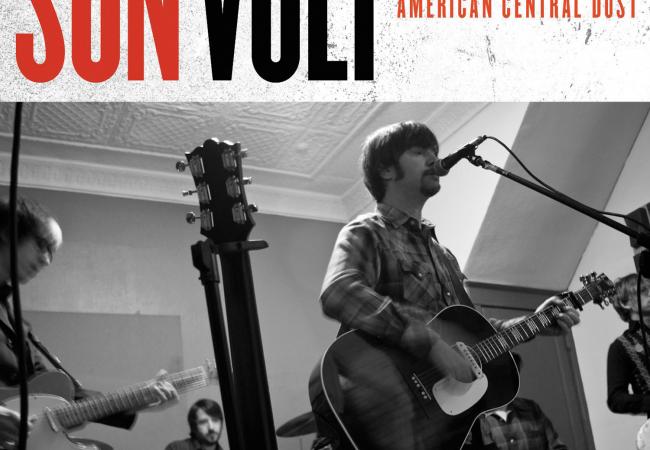 Son Volt's latest release, American Central Dust, delivers the sound you've come to know and love from them (even if what you really loved was how much Son Volt sounded like Uncle Tupelo.) The title of this one alone should be an indicator that this album finds principle songwriter Jay Farrar traveling pretty familiar territory.
Like Uncle Tupelo before them, Son Volt's music swings like a pendulum between lazy ballads and rockin' guitar-driven numbers. And though Uncle Tupelo mastered all the territory in-between, it's at the zenith of either of these points that Son Volt shines. Unfortunately, American Central Dust resides mostly at the fulcrum.
The slow songs are gorgeous. "Dust or Daylight" is a sexy, syrupy waltz; the refrain of "Love is a fog and you stumble every step you make" wrapped in velvety pedal steel guitar and weepy fiddle. "Pushed Too Far," a post-Katrina love song, follows in a similar, albeit sparer vein. "Exiles" is sweeping and lush -- a good song for a heartbreak drive at 4 in the morning.
But the pendulum never quite makes the full swing back to the rock of past albums. "Down to the Wire" falls just short, and finds Farrar's lyrics bogged down by the weight of his social agenda. Ditto for "When the Wheels Don't Move," Farrar's ode to the dying auto industry -- which recalls Lucinda Williams' "Changed the Locks," minus the punch.
And then there are the songs I don't really know what to do with. "Cocaine and Ashes," a weird tribute to Keith Richards, has me on the fence--the music is lovely, but the sentiment is a stretch. (B+ for effort, though, for trying to pull off a ballad with the lyrics "tears and blow on my mind.") "Sultana" is the album's token culled-from-true-events track -- about an 1865 steamboat disaster -- but it doesn't hold a candle to the heart-splitting sincerity of "Tear-Stained Eye" (from their first album, Trace.)
Though American Central Dust, finds Son Volt operating at half-capacity, it's still a solid album when judged independent of their past work. It's pure Americana--a good soundtrack for late summer nights on the porch swing. But as we close the books on another decade, my wish for Son Volt is the same as my wish for their sibling band, Wilco: a shot in the arm.
Resources
What is Spotify?