Charlie Parr performs on Radio Heartland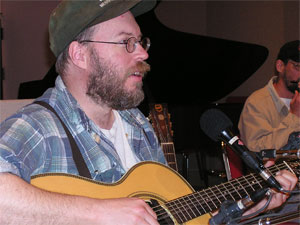 When you think of blues music, one's mind goes back to the days of Mississippi John Hurt or Howlin' Wolf. It's an automatic reaction to think of bluesmen as long gone and something of America's past.
But the blues is still very much alive, and Charlie Parr is out to prove that. Parr rejects many of the characteristics of the modern-day recording musician. He's not about record labels or highly produced recordings.
In fact, he prefers making his records in garages and basements with very little production. And with that, he's developed a worldwide fan club.
Parr's latest album is called "Roustabout." He's literally been touring all over the world lately, playing tunes from the CD.
He's recently back from tours in Australia, the British Isles and all of the western U.S. He's soon to head back to Ireland, England and the Netherlands this fall.
We were lucky enough to catch him on his way home to Duluth, to play some songs for us in the Radio Heartland studios.
Songs performed: "Come Along And See," "Far Cry From Fargo," and "Let An Old Drunkard Be."
Resources
Related Stories
Charlie Parr performs live in the Current studios The new album from Bluesman Charlie Parr was recorded in his neighbor's garage - birds chirping, water on the floor, kids running by - and he feels that the setting allowed him to perform like he wanted.
Old, new, borrowed and blues Charlie Parr has a new CD, but it sounds old. It's called "1922." A few of the songs were actually written in the '20s, but most of them are new, and written by Charlie Parr. If you added some scratches and pops, you'd almost believe the music came from a 70-year-old field recording. It's a surprising sound for a guy and a guitar in Duluth.