Halloween, Alaska performs live from the Minnesota State Fair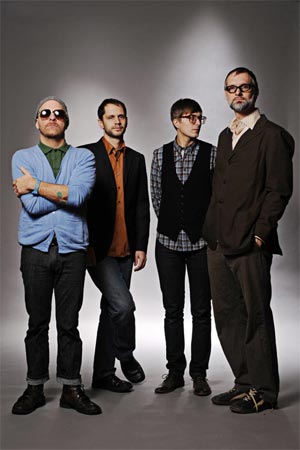 The first Monday of our State Fair comes fully equipped with friend foods on sticks and local (and national) music favorites, Halloween, Alaska. Drummer Dave King talks about their failed gigs and what has been thrown at them while on tour.
Mary Lucia hosts the band as they cover Sade and power through tracks off their latest release, "Champagne, Downtown."
Songs performed: "Love Is Stronger Than Pride (Sade cover)"Hollywood Sign," and "Hot Pink."
Guests
Resources
Related Stories
Halloween, Alaska performs in The Current studios Minneapolis natives Halloween, Alaska have been swiftly spreading their musical prowess since their formation in in 2002.
Halloween Alaska draws on big names to celebrate.... the 80's? Members of three prominent Twin Cities musical groups, Happy Apple, 12 Rods, and Love Cars are taking a break from their noisier roles as rock and jazz musicians. They've formed a new band called Halloween, Alaska. The group describes its songs as quiet, mood pop, with a heavy nod to one of its favorite musical eras, the 1980s.