Album Review: Minnesota Beatle Project Volume I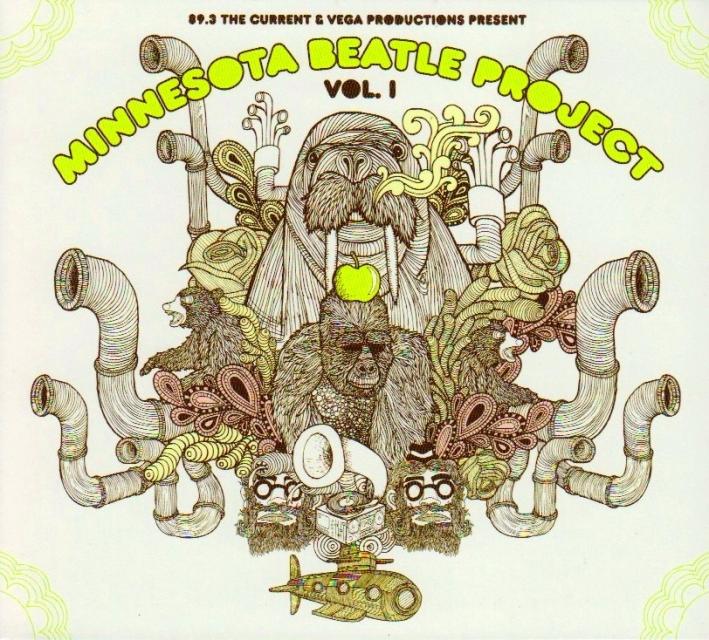 At best, the tribute album is a very dicey proposition for the music fan. Any time you are dealing in the world of purchasing re-recordings or re-interpretations of material by a favorite artist, there is a great potential for dissatisfaction. It might be some low-grade re-recordings that are pretty much the same as the original and done by some no name, sound alike, studio rats. Yuck. Or, you may find that even though you like the original artist, and you like the artist or band paying tribute to said artist, you don't like they way they handle the material. Double loss. But under the right conditions, a tribute record can be great fun for everyone! It can provide music fans with an additional, different version of something they already like to love. It can give the artist a chance play karaoke and see how one of their favorite songs might sound if they were singing. And in the case of the Minnesota Beatle Project Volume I, it might help rebuild and enhance music and art education for children in Minnesota Public Schools. Really.
The Minnesota Beatle Project Volume I is a compilation composed entirely of Minnesota musicians recording their own version of their favorite Beatles' songs. Some chose to drastically re-imagine what that song could sound like. Mark Mallman's electro take on "Fool on the Hill", Heatbox's version of "Octopus's Garden" made exclusively with the human mouth, and Jeremy Messersmith and Zach Coulter's (Solid Gold) Drakeish bend on "Norwegian Wood" all explore a far different path from the original. Some chose a subtler reinterpretation of the song with their own signature moves. Romantica's version of "Something" complete with pedal steel, Roma Di Luna's gorgeous rootsey adaptation of "I Will" that occasionally buzzes with robotic keyboard noise and Ice Palace's signature clunky indie-rock sound applied to "Strawberry Fields Forever." And some do it just like you remember the original sounding, but in their own voice. Lucy Michelle & The Velvet Lapelles' "Sexy Sadie" and Dave Simonett & Friends ' "Two of Us" are exactly what you are looking for when you pick up something of this nature in the first place. In fact, all of the songs on the Minnesota Beatle Project Volume 1 experiment in one way or another with instrumentation or arrangement but remain true to the original melody of some of the greatest pop songs ever written by the greatest pop band to ever live.
But the most amazing thing about this project is that Vega Productions, who has been making sizable charitable contributions to public schools in the way of instruments over the past four years, has committed 100% of the net proceeds from this collection to benefit music education in our public schools. Sit back and glow while taking in the Sgt. Pepper's Lonely Heart's Club Band medley by the Susan B. Anthony Middle School Band Class of 2008/2009 knowing they are performing it with instruments given to them via the work of Vega Productions. It feels good and sounds good for both fans of the Beatles and the local musician alike.