The Twilight Hours perform in The Current Studios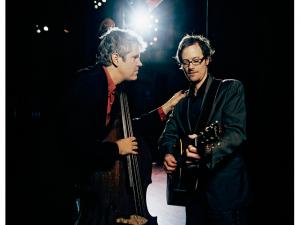 Minnesota mainstays Matt Wilson and John Munson have musically merged once again as The Twilight Hours. The duo found success together in their early incarnation as Trip Shakespeare and apart in bands such as Semisonic and Polara. Reunited in 2001 as the Flops, Wilson and Munson now make music under the name The Twilight Hours.
Their debut release, "Stereo Night," is a meticulously crafted self-produced album. Since its release in September 2009, The Twilight Hours have been gaining attention in the local scene, and they were named one of The Best New Bands of 2009 by First Avenue.
The Twilight Hours stopped by The Current studios for a live performance on The Local Show.
Songs performed: "Dreams," "Forget Me Now," "Queen of Tomorrow," "Telephone" (Web exclusive).
Guests
Resources
Related Stories