Album Review: Gorillaz - Plastic Beach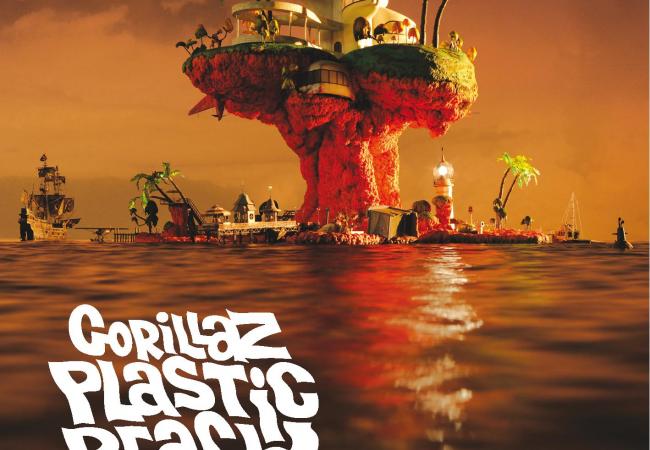 If you believe the latest, this album will be the last under the name Gorillaz. But how much of the cartoon band do you believe in? Damon Albarn of Blur and his illustrator partner Jamie Hewlett are behind the concept project which is now a bigger commercial success than anything else either have ever done. The group has sold over 6 million copies of the previous two releases and went straight to number one in the UK this week. Weirdly, it still seems to come off like a minor side project that they do for fun, inviting as many of their friends and heroes to join them!
The title for the album apparently came from Damon sitting in the sand by his house, which was financed by this monster hit that he'd created, and looking at all the plastic trash on the beach. If you've become more successful than your wildest dreams and you still can't get away from it all, what's the point?! If an arty collaboration scheme that you dreamt up to challenge the pop culture excess is swallowed whole by that culture, turning into a pan-global hit in a way that still few have achieved...what IS next?!
Collaboration is the key word here. As far as I know we have not gotten to the point where cartoon characters can come up with riffs and beats and orchestral arrangements, but this CD tries to convince you otherwise. On previous albums other producers were always key components of the listed collaborators, Dan the Automator and Dangermouse. This time that is not the case and it shows. There are no obvious big hits of the caliber of ... "Feel Good Inc.," "Clint Eastwood" or "Dare" on here and some of the tracks sound like I did in my bedroom in the early 80's on my Casio keyboard! Perhaps that's the aesthetic that they wanted.
Apparently some of the vocal sessions were done in one take under difficult circumstances and the remaining members of The Clash were only in the studio for one day! Some of these feel like wasted opportunities and leave a flimsy veneer of faux soul on the whole thing. The track with Lou Reed works by capturing an essence of him. The vocal is vintage and fresh at the same time. Perfect. I've always liked Damon's delivery so he carries many of the better tracks. But I suppose my biggest disappointment is purely personal. I was excited to hear that Mark E. Smith of The Fall was going to be on here too. I'm afraid the 3 snippets of his voice that build no real song are hugely ineffectual. Then they almost make up for it with Bruce Willis on the first video for "Stylo!"
If you're a fan of the whole concept and are following the story, I'm sure you won't be disappointed. Threads and characters re-appear and weave the plot together and there are even references to the Monkey Opera that they worked on in China last year. Realizing that no one has really tried to create a pop culture phenom in quite this way before in an era when the flat world theory seems most plausible when observing global music consumption, they are genius. Those high standards are the only way to assess them and this potential swan song leaves a little to be desired, but ties up some loose ends. Who else could they collaborate with?!