Album Review: M.I.A. - /\/\ /\ Y /\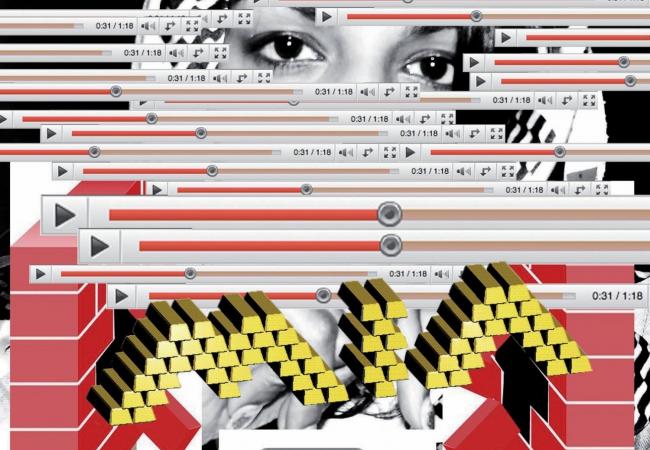 MIA is a cultural phenom. Born out of the long civil war that has engulfed Sri Lanka and raised in the pop melting pot of London, with its insatiable appetite for music and visual art, she now resides over here as music business royalty, daughter-in-law to one of the biggest record executives left standing, Warner Music Group CEO Edgar Bronfman Jr. It's a story with a wonderful dramatic sweep, and, as she says on one track here, "I just want my story told." She seems to be in total control of telling that story too, still working with the corps of producers that have gotten her to where she is now, Diplo, Switch and Blacqstarr. They are getting better with every album, and their new songs are packed full of percussive venom and mad squeaks and peaks. She's even got her own label now, N.E.E.T., which has just released another very "out there" CD from Sleigh Bells.
When she came in to do a session with us several years ago, I said that she probably wouldn't be back, as next time she'd be too big. She laughed nervously and I couldn't have predicted how right I am. After the success of "Paper Planes" she's HUGE--even bigger than she was when she was pregnant on the Grammys!
It's amazing that a major label, struggling to survive the changing business model, instead of playing it safe, releases one of the most challenging artists that has ever been on a major label, one that might be worthy of a bio movie one day (perhaps tomorrow). She's an artist of the moment, and how long can this moment last?
She's also an extremely personal artist: the title of this album is her real name, her first was named after her Dad and the second was a tribute to Mum. But because of her background and present position, the personal is made collective--her life is a universal story of how flat our world has become and how, as a new media artist, she's shrewdly aware of the power of the video and the tweet.
First and foremost, she's a visual artist. One of her first trips to America was making a film with the band Elastica, before she'd begun to make her own music, and so it's appropriate that the launch of this album started months ago with the very controversial video for "Born Free." Showing US storm troopers rounding up ginger haired individuals for sadistic "execution as sport" in the desert, it was banned by YouTube. A less-than-flattering recent New York Times magazine feature caused her to start a tweet spat with the writer. She's in uncharted territory for pop artists, trying to appeal to the tweet hungry masses and make biting social commentary. The two have yet to go hand in hand.
So her album should be considered in this context and also as a potential inflection point in the unraveling of the music industry. There are more demands and expectations now. How does that affect the sound of this record? Well it's frenetic musically, trying on different styles like reggae and sacred harp singing with limited success. But perhaps most surprising, for such a controversial artist, is the lack of solid lyrical content. The messages that stick with me are that she wants her story to be told, she was born free, she's not going to be something that she isn't and it is possible to make a killing without forgetting the feeling.
Is that enough substance? Would more become simple sloganeering? Is it possible to have substance and succeed in pop music? MIA's back story is authentic and she's desperately trying to keep it real, and so this is the latest litmus test: can an artist like her be as big as Gaga? The label needs her to be, and so do we, her early fans that want authentic voices to survive.