Reynold Phlipsek And All The Things He Is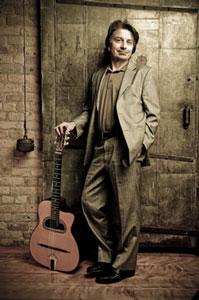 Reynold Philipsek doesn't mess around when it's time to record. That might explain why there's something like 30 albums out there with his name on them. But who's counting?
"All The Things You Are" is one of the latest recordings of Reynold and his gypsy jazz guitar playing. This album, Reynold says, is a tribute to his parents and his Slavic ancestors. He included Polish folk music as well as European jazz to create this album.
Reynold stopped in the Radio Heartland studio to talk about making "All The Things You Are."
This in-studio feature aired on
Radio Heartland
July 25, 2010.
Guests
Resources
Related Stories
Gypsy Mania performs on Radio Heartland "Hot club" jazz isn't new to Minnesota. In fact, there are several bands in the region performing the 20th Century style of jazz attributed to Django Reinhardt and Stephanne Grappelli. And the members of Gypsy Mania say the Twin Cities, in fact, has become the center for that style of music lately.