Album Review: Neil Young - Le Noise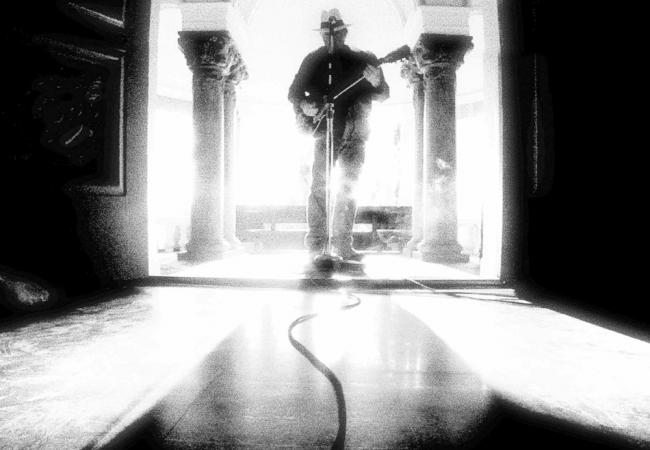 Neil Young has a new recording. Of course, this is not the first time I've said that--he's made so many albums that it's hard to keep count! It's rare that a year passes without an album of new material, and he's been doing this for 40-some years, but this album is a little different. At nearly 65 years of age, Mr. Young has made one of the most personal albums of his career. For this one, he headed to the Silver Lake area of Los Angeles to record at the home studio of producer Daniel Lanois, who has manned the console for albums by U2, Bob Dylan and Willie Nelson, among many others. Le Noise was recorded during a full moon, which has become a tradition with Young.
Le Noise is a solo album, but certainly not your daddy's solo acoustic album. Here, Neil combines what he does best--his intimate acoustic sound, his loose and raucous Crazy Horse style and his experimental side. He's armed with both his trusty electric, loaded with plenty of feedback and distortion, and his acoustic guitar. Much of it sounds as if you're hearing both guitars at once. The acoustic features prominently on my favorite track on the album, "Love and War," a powerful song featuring a lovely Spanish-style guitar and Neil giving us his thoughts on the evils of war. He sings, "I've seen a lot of young men go to war and I've seen a lot of young brides waiting/I've seen a lot of them trying to explain it to their kids and seen a lot of them failing/ they tried to tell them and they tried to explain/ why daddy won't ever come home again." After all these years, Young still isn't afraid to speak his mind about war.
But war isn't the only thing on his mind. He also sings about love. "Sign of Love" appears to be about his relationship with his wife Peggy. He sings, "When we both have silver hair and a little less time, but there still are roses on the vine/you can take it as a sign of love." True love is a wonderful thing!
Le Noise is "no holds barred" Neil Young. On the track "Hitchhiker," he touches on almost everything, from his rise in the music scene to drugs, to the importance of his family and even to surviving an aneurysm.
Neil Young said this about Le Noise: "It's personal with a lot of racket." And that about sums it up. Don't go changin', Neil. Keep up the good work!
Resources
What is Spotify?