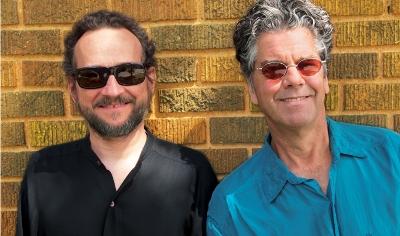 Dean Magraw has played guitar with all sorts of musical ensembles, in all sorts of musical styles. He's known locally as the "go-to" guitar player when you want to complete a band.
But when Dean was diagnosed with MDS and was recovering from a bone marrow transplant it was his friend Marcus Wise who suggested they get together and record as a duo as a way of dealing with recovery. With Wise on tabla and Dean on guitar, the two recorded an album of music that reflected their friendship. Facing each other, they communicated without words, using their instruments and their ears to transform musical ideas into songs.
"How The Light Gets In" was released in February 2011. In the fall of 2010, Dean and Marcus stopped in the Radio Heartland studio to chat and play a few tunes live.

This in-studio feature aired on
Radio Heartland
November 9, 2010.
Guests
Resources
Related Stories
Magraw and Wise still make music together after 30 years Two Minnesota musicians will celebrate 30 years of collaboration and a new album at the Cedar Cultural Center this weekend. Guitarist Dean Magraw and tabla player Marcus Wise talked recently with MPR's Euan Kerr about their new album, "How the Light Gets in."