Rogue Valley perform in The Current studio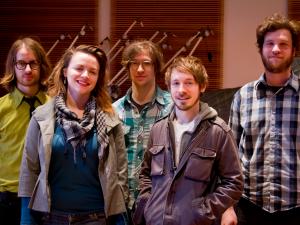 St. Paul, Minn. -- Local quartet Rogue Valley is collaboration of Chris Koza and fellow Twin Cities musicals Peter Sieve, Luke Anderson, Joey Kantor, and Linnea Mohn. Named after a rift near Portland, Oregon where Koza grew up, their orchestral-folk sound has made them a favorite throughout the cities music scene.
The band is releasing their fourth album, False Floor. This will be the final installation in their album series which features each of the seasons.
Songs Performed: "Orion," "Hunters and Trappers," and "The Wolves and the Ravens,"
Guests
Resources
Related Stories
4 Photos
Rogue Valley

(Josh Anderson North South Photography

)

Rogue Valley

(Josh Anderson North South Photography

)

Rogue Valley

(Josh Anderson North South Photography

)

Rogue Valley

(Josh Anderson North South Photography

)
View 3 more photos