Album Review: Eels - Tomorrow Morning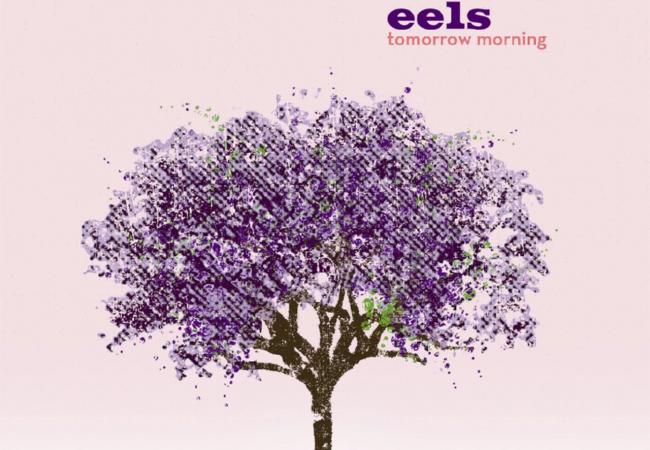 I'm all for not judging a book by its cover, but Eels front man Mark Oliver Everett is known for lyrically wearing his heart on his sleeve. So I feel like the album sleeve is a bit telling: in the middle of a pastel pink page there is a sweet, beautiful tree overflowing with bright purple flowers. E (the moniker Everett typically goes by) has been known for his straightforward and simple lyrics expressing loss, loneliness and unrequited love. The cover art makes it known, however, that Tomorrow Morning is an entirely different entity.
E has said in a couple of interviews that Tomorrow Morning is the end of a trilogy that began with 2009's Hombre Lobo: 12 Songs of Desire and continued with this year's End Times. The trilogy followed E searching for love and acceptance, finding utter rejection and failure and now, at last, arriving at some redemption. The negative press for the past few albums was focused on them being overwhelmingly self pitying and depressing. However, after enduring emotionally distant parents, their subsequent deaths, his sister's suicide and other unfortunate circumstances, E's lyrical candor has a justified basis for its depressing tone.
What was always peeking out, even in those dark, heartbreaking songs, was the smallest bud of hope. On Tomorrow Morning, it feels like E has finally realized that he's weathered the storm and the sun is peeking out. It seems like E is talking to those critics, especially in "Looking Up," where he takes to the pulpit and, with hand-claps and a choir, preaches about his awakening: "It took a little while but I'm a real fine man now." There is no self-pity, no pain, just a guy who is finally allowing himself to be OK with being happy and let go of his self-torture. In fact, many of the songs feel like a response to earlier tunes where he saw nothing good in himself. He's talking to that old self in "What I Have To Offer," telling him, "What I have to offer/ well, there's a lot." E even goes on to name all of his great traits.
The stories, while cheerful and uplifting, are still told in E's straightforward and almost childlike rhyming simplicity, such as when he sings, "Now I'm pretty sweet/ back on my feet/ walking down the street." The music, however is a lot fuller than either Hombre Lobo or End Times. There are choirs, electronic loops, airy keyboards and full strings. This is a lush album, designed to illustrate someone who has finally come outside and realized that there is more to the world than the dark, dank basement. Sonically, it's very much in the vain of Eel's 2005 release, Blinking Lights and Other Revelations. Where Hombre Lobo and End Times had a sparse one-man approach, it sounds like everyone is on board for the final chapter of the story.
This sunnier side to E is entirely refreshing. I am glad that this is the closure to the trilogy. I never thought that I'd see a purple flower on the cover of an Eels album, and I hardly expected E to write an entire album with a smile on his face. But nothing feels inorganic or forced. Maybe after nine albums, one book and fourteen years, it's time for a change. It's a nice reminder that after End Times, there is always Tomorrow Morning. We've all been pretty down and cynical, and sometimes you have to go all the way down to be able to see the light.