Album Review: Elvis Costello - Secret, Profane and Sugarcane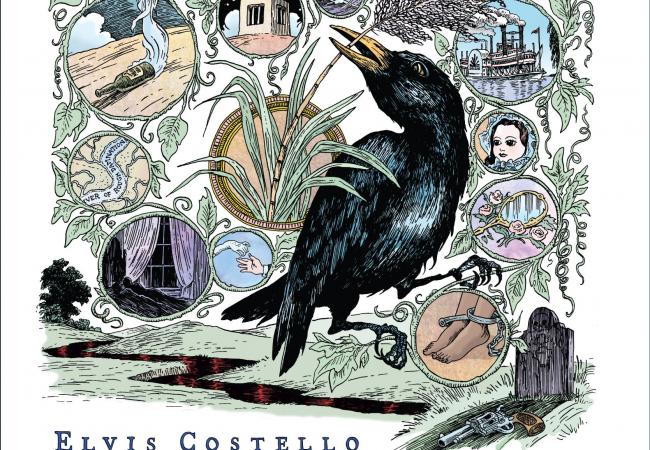 Way back in 1981, Elvis Costello released Almost Blue, an album recorded in Nashville and produced by the legendary Billy Sherrill. It was a country album from an angry young man known for his punk attitude, and it was so far out of left field that it contained a sticker that read: "WARNING: This album contains country and western music and may cause offence to narrow minded listeners." It was his own Nashville Skyline. Elvis Costello has been doing the unexpected ever since.
Mr. Costello can sing any genre with ease and credibility. His latest batch, Secret Profane & Sugarcane, is produced by his old friend T-Bone Burnett, who sprinkled it with some of that "Oh Brother" fairy dust, giving it an old-time bluegrass feel, although most of the songs are more like ballads than your typical bluegrass music. Elvis' ability for a well-turned phrase makes him a natural country and bluegrass writer. I found myself singing along on one of the album's highlights, "My All Time Doll," which features Costello singing over a strong bohemian groove with a phat standup bass: "You're my all-time doll / You're all I adore / I'd swear to it now / but I already swore."
T-Bone Burnett co-wrote a couple songs including the excellent "Sulphur to Sugarcane," where Costello sounds downright playful, reeling off lines like, "I gave up married women 'cause I heard it was a sin / but now I'm back in Pittsburgh / I might take them up again."
The album sounds as though he and veteran Nashville cats Jerry Douglas, Stuart Duncan and Dennis Crouch, and recording artists Emmylou Harris and Jim Lauderdale are sitting in a semi-circle having a "guitar pull" with Elvis leading the band. The genuine good feelings are apparent on tracks like "Complicated Shadows," with a beat almost replicating the sound of an old manual typewriter, and on "Hidden Shame --" a song with that familiar freight train beat which was actually written by Elvis for Johnny Cash's long forgotten Boom Chicka Boom album in 1990.
Elvis Costello at 54 hasn't lost a thing vocally. He sings with conviction and soul throughout the album, and his voice is highlighted on "How Deep is the Red" and the album's closer, "Changing Partners," a song popularized by Bing Crosby.
It's been a fun ride watching Elvis Costello throughout his four-decade career. This guy can jump around musical genres with ease. Unless you're a narrow minded listener, Secret Profane and Sugarcane belongs in your collection.