Album Review: The New Pornographers - Together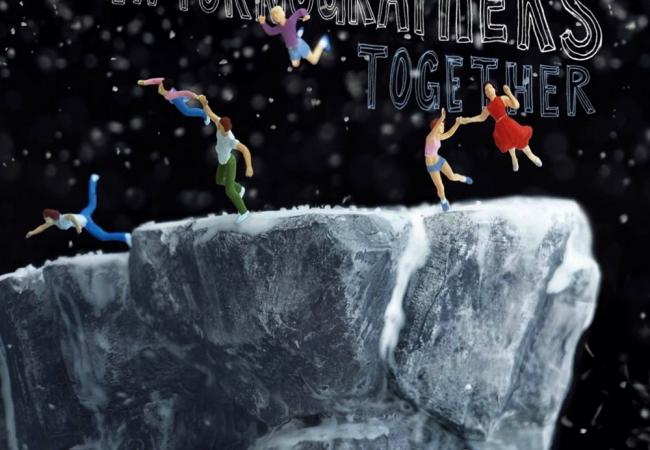 With the fifth album from Vancouver's The New Pornographers, Together, can we still call a band that's probably now more defined as a primary vehicle for most of its members a "supergroup"? I suppose if we take the Led Zeppelin or Cream examples — groups made up of established artists who carved out a distinct band identity with their new vehicles — then yes. If it's, say, Zwan we're talking about... probably not so much. But no matter. How's the new record? Have Carl Newman and company served up another helping of up-tempo sugar-rush power pop? Yes and no — but the "no" is not such a bad thing.
As always, Carl (also known as A.C.) Newman, the New Pornographers' core member and chief songwriter, proves that he is truly a practitioner of making every moment count. If he sometimes writes a tune that sounds like filler, it's only because the bulk of the songs sound as if they were conceived not just as singles, but as if each one were his only chance to make your cortex tingle with his most effective tricks. The difference on Together is that there is a ever so slightly less of the amped-up wallop of records like Electric Version and Twin Cinema and a bit more, well, glide. That's not to be confused with "coast"; quite the contrary; the medium-tempo songs on Together offer some of the disc's most satisfying moments.
The album's advance single, Your Hands (Together) is a fine song in that classic New Pornos style, but it's not only not the best tune on the album, it's almost a clearing house for some of Newman's less-awesome tendencies: a reliance more on pomp and propulsion than melody, jacking up the horsepower as a compensation for the lack of otherwise appealing aesthetics. It comes as a relief (and then some) when sitting down with the full record for the first time that Moves, the album's opener, serves up an instant earful of awesome hooks and just-unpredictable-enough melodic twists — the kind of inventiveness that puts Newman in the pantheon of the true power-pop greats. By track two, Crash Years, Neko Case (the only band member who's outside career unquestionably is higher profile than her role in the group) takes the lead vocal, and while the energy is turned up half a notch from the first track, the songs still lives in that sweet-spot of melody and jangly arrangement that yields quite more than the sum of its parts. And it's clear why Crash Years is slated to be the CD's first official single: all of the New Pornographers' best pop immediacy is there, but there's a songsmithing subtlety that lines the corners of the tune with a velvety glow that casts of a greater array of secondary and tertiary colors than we're used to from their songs.
Second-guy-in-charge Dan Bejar chips in on a couple tunes as usual: the lovely Silver Jenny Dollar and the revelatory If You Can't See My Mirrors — the latter an absolute high of windows-down, sunny-day driving musical ecstasy. It's too short at 2:57, but it truly leaves you wanting more, so that's probably about right. Yes, there are a couple of lulls: the Neko-sung My Shepherd doesn't have the tune to give flight to its cumbersome religious allusions, and the closer, We End Up Together not only comes off as tacked-on but too long by half. My only other gripe is that the contributions of the record's various high-profile guests (Zach Condon of Beirut, Annie Clark [aka St. Vincent], Will Sheff of Okkervil River, and the horn players from Sharon Jones and the Dap Kings) barely register, if at all. Still, the disc clocks in at the sacred running time of 45 minutes, holding our attention and then letting it go just about right on schedule (or at least about two minutes after that).
Despite these charms, many will likely say that Together isn't The New Pornographers' best effort. It's true that it's tough to compete with previous achievements like Use It and Sing Me Spanish Techno — pulsating meldings of rock muscle and frosting-eaten-right-out-of-the-tube melodic sweetness. But if accepted as a somewhat slighter effort, Together has its own solid appeal. Not a meat-lovers pizza followed by a carton of ice cream, perhaps, but a subtler, quieter confection. A sacher torte.