Album Review: Vampire Weekend - Contra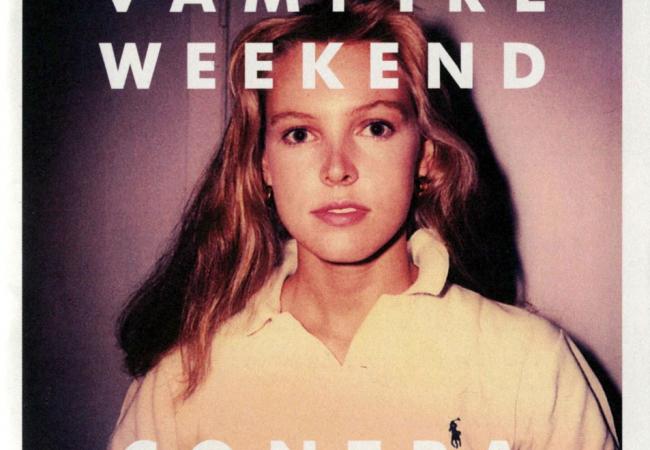 Ezra Koenig, Chris Baio, Rostam Batmanglij, and Chris Tomson formed the band Vampire Weekend early in 2006, when they were finishing up their studies at Columbia University on the Upper West Side of NYC. Playing house parties, they would sing cheeky songs about the lives of their peers perched on minimal beats that seemed to suggest an African flavor. "Upper West Side Soweto" was born, a place that only exists in the realm of Vampire Weekend. They continue the journey through this world on their second full length release Contra. With lyrical references to diplomats and aristocrats skiing and hanging out in a Richard Serra skate-park, pop music has seldom been privy to this world, and it makes for an interesting ride. Literate songwriting with a global musical swing hasn't been done so well since Talking Heads.
"Horchata" is the first single that we've been playing for several months (in fact, it's about to be inducted into our Chart Hall of Fame), but there's four or five other tracks that will work well on the radio. Those who think the sweet pop bounce of "Horchata" is - like its subject matter - apt to be a little too much if over indulged in, try the whole album. The whole thing really does work as a set of songs that play off each other and it builds resonance with repeated listens. It's the right length as well, with ten tracks and a mid-section change of pace that works well.
They also try to stretch out of the three-minute ditty, especially on "Diplomat's Son." It appears to be a personal story is set in 1981, but these boys are too young to be the subjects of it and they leave the narrative hanging without resolution.
This is at the heart of their appeal: an ability to create an intricate fantasy world constructed of apparently simple pop songs. It's only the final song (the title track) that doesn't work for me. Its structure doesn't hold together well enough to make a conclusive musical exclamation point. Perhaps I'm too concerned about the political ramifications of the word "contra," indelibly stamped by The Clash's "Sandinista." Vampire Weekend could be referring to the video game of the same name!
The band is still remembered as being one of the first to blow up big by being boosted by the blog buzz that they received in the Summer of '07. They solidified their reputation with a string of shows in their home base of Manhattan at the College Music Journal festival and it remains to be seen if there will be the almost predictable backlash from the notoriously fickle blogosphere. I hope not. But even if that does occur, I really think Vampire Weekend have navigated the difficult sophomore album and are ready for prime-time!