Rani Arbo and Daisy Mayhem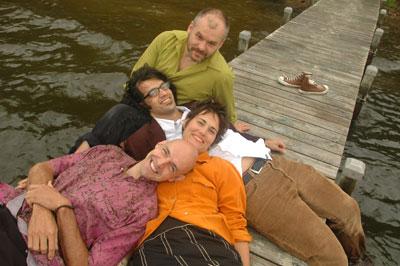 If a band breaks away from their usual repertoire and records a kid's album, is it dangerous? Not really. Especially if you're Rani Arbo and Daisy Mayhem. The Connecticut string band has never really been pigeon-holed because their musical style has such a wide range...from gospel to bluegrass to folk and pop.
Their latest album is called "Ranky Tanky" and it's their first family record. But so called "family music" isn't that much of a departure, according to the band. They've always played music that could be appreciated by a very wide audience.
Three members of the band stopped in to the Radio Heartland studio to chat recently while in Minnesota for a few playing dates...Rani Arbo, Anand Nayak and Andrew Kinsey.

This in-studio feature aired on
Radio Heartland
April 8, 2011.
Guests
Rani Arbo
Anand Nayak
Andrew Kinsey
Resources
Related Stories