Album Review: Panda Bear - Tomboy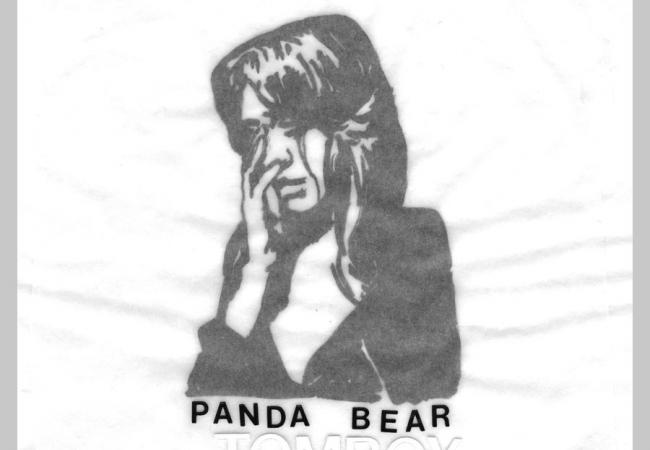 Animal Collective are one of very few bands to emerge in the last decade who have undisputedly changed the shape of the musical landscape. Rather than revive, reframe or juxtapose rock's past innovation, Animal Collective have long endeavored to generate new ideas of what texture, rhythm and melody can be—and how they might be combined. Their chaotic early work struggled to define new forms of music outside of standard conventions, yet each successive album found the band drifting further towards pop and rock tradition, folding their outlandish fixations and innovations into familiar forms and forging a totally new yet uncannily inviting sonic vocabulary.
Of all of Animal Collective's members, it's Panda Bear (born Noah Lennox) whose work as a solo artist has best complemented the band's unique zeitgeist. Indeed, Panda's third solo full-length, 2007's Person Pitch, was greeted with more accolades than practically any other artifact in the Animal Collective catalogue, and eventually garnered a fervent cult following all its own.
Person Pitch was at once experimental and pop-friendly, dazzlingly technically innovative yet unabashedly emotional. Relying heavily on sampler technology, Lennox crafted an ecstatic, deeply layered strain of psych-pop, full of shapeshifting rhythms and radiant melodies.
While Lennox's lovely, Brian Wilson-esque vocals remain in place, Tomboy, released April 12 on Animal Collective's label Paw Tracks, is based on a startlingly different sonic template. The record's production is thick with electronic texture yet largely eschews the densely interlocking rhythmic collages of its predecessor, opting instead for a more free-wheeling, kitchen-sink approach. Here, Lennox builds a heavy, heady atmosphere of reverb and echo, smeared with lackadaisical, repetitive guitar strumming, dreamlike synths and stray vocal samples.
At first, it all feels a bit amorphous, even unhinged, as the songs' disparate sounds slide in and out of sync and threaten to crumble away. However, thanks to Lennox's much-matured songwriting skills and stronger, more confident singing, Tomboy finds Panda Bear retaining his trademark vastness of sound while embracing even more unkempt, abstract styles and structures than on his earlier work.
Indeed, one of Tomboy's most peculiar facets is how labored it sounds, how carefully and thoughtfully Lennox seems to have honed its every moment. Where Person Pitch seemed effortlessly effervescent, this album feels considered, disciplined. And with four years separating the two albums, Tomboy has, in fact, had a long gestation. All of its tracks have cropped up in some form in Panda Bear's live shows in the last couple of years, and many of them saw release on the four 7" singles that Lennox put out in the nine months leading up to the album's release. Yet for the final mix, Lennox turned to outside hands—namely Pete Kember, a.k.a. Sonic Boom of '80s psych-rockers Spacemen 3. The songs still glow with Lennox's personal touch, but Kember's production lends a warmth and a consistency of tone that helps hold the record together.
Album opener "You Can Count on Me" is Tomboy's shortest song, and one of its most straightforward. Lennox sings "Know you can count on me" over thudding, rumbling drums that periodically drop out of the mix. Meanwhile, faint movie samples and fragmented guitar bits flutter around his heavily multitracked vocal. It's simple, but intensely emotional, with Lennox's reassurance taking on a hymn-like quality as it repeats and as the song's sheer magnitude of sound steadily accrues.
Lennox has talked, albeit hesitantly, about seeking an almost spiritual tone to the new album, and it's not just "You Can Count on Me" that conforms to this ambition. Throughout Tomboy, the songs exude a sense of inner journeying, bolstered by Lennox's soaring, searching voice and the wide-open psychedelic panorama of sound. One song is even called "Surfer's Hymn," and it boasts not only the album's biggest, brightest melody, but also Lennox's finest vocal performance to date. Amid a cloud of agitatated synths and samples of crashing waves, he sings lyrics that are at once elliptical and inspirational: "How do I know it's time?/ Even if I've got mine?/ Is it wise to know what wisdom is/ if I could err on every good side every time?"
The album is also remarkable for its surprisingly heavy use of guitar—although the instrument functions largely as a force for trance-like repetition, evoking techno's spacious plateau moreso than rock's stop-start dynamics. On the bittersweet "Last Night at the Jetty," the squelching, meandering guitar line provides the undertow holding the song's many elements in place, even during the staggering climax that arrives midway through. On the title track, the chugging guitars serve again as both rhythmic anchor and atmospheric backdrop, with a nervous synth melody and Lennox's unintelligible lyrics taking center stage.
The quartet of songs that ends the album might be where Tomboy hits its stride. "Scheherazade" is a lonely, minimal ambient dirge unlike anything else on the album, with an eerie atmosphere generated by spare, arhythmic piano chords and Lennox's faintly warped vocals. "Friendship Bracelet" is probably the album's finest song, its strobe-like electronic effects and disorienting instrumentation steadily cohering into a lovely groove. The 7-minute "Afterburner" is a mid-tempo number thickly draped in dubbed-out guitar, odd sound effects, and lopsided percussion, with Lennox's singing possessing both a sun-scorhed warmth and an ardent urgency.
"Benfica," the closing track, is named after a soccer team from Lennox's latter-day hometown of Lisbon, and the song finds his heavily multitracked vocals layered on top of samples of sports-stadium cheering. "There is not a thing/ more true or natural/ than wanting to win," he sings yearningly. In that case, he can rest assured—Tomboy is a triumph.