Brian Just Band perform in The Current studio
Like many acts these days, the Brian Just Band got their start by accident. Brian and his bandmate Josie invited their friend Rick to play trumpet on their couples' duet, but when he sang the horn part instead, the resulting harmonies inspired them to start a band together.
By turns low-key and boot-stompin', their versatile blend of acoustic folk and bluegrass highlights their signature harmonies. Featuring members of other local bands Como Avenue Jug Band, Beight, and Tuesday's Robot, the sextet is releasing their full-length album, If You Like To Be Alone Or If You Need To Be With Someone.
Songs Performed: "Electric," "Washburn Square," and "We Don't Break Bread."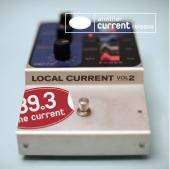 This performance is a part of Local Current Vol. 2, a compilation of local in-studios recorded at The Current in 2011.
Guests
Resources
5 Photos
Brian Just Band

(Nate Ryan / MPR

)

Brian Just Band

(Nate Ryan / MPR

)

Brian Just Band

(Nate Ryan / MPR

)

Brian Just Band

(Nate Ryan / MPR

)

Brian Just Band

(Nate Ryan / MPR

)
View 4 more photos