Meat Puppets perform in The Current studios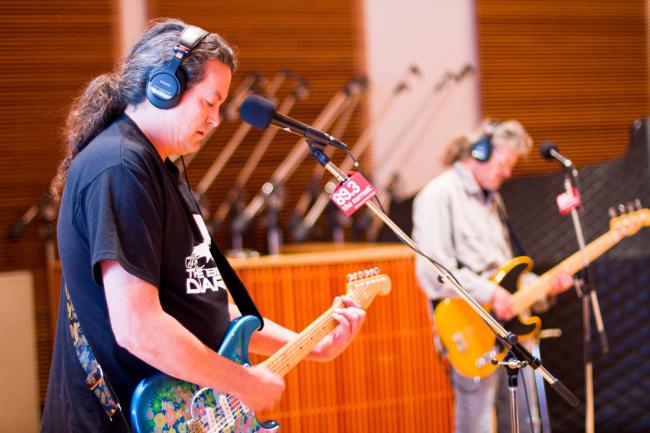 Brothers Chris and Curt Kirkwood formed Meat Puppets nearly 30 years ago. They were "grunge" before it was a genre and "alternative" before it was a format. They were a major influence on Kurt Cobain and Nirvana's music. They've been through the ringer with record labels, touring and drugs, yet somehow they're still around to release Lolipop, their 13th studio album.
Chris and Curt were joined by their touring drummer Shandon Sahm during the interview, and they all took part in answering my questions. If there's one lesson these guys taught me, it's not to take rock stars too seriously. Jokes, one-liners and self-deprecating answers met most of my questions. But I still really enjoyed hosting this sarcastic and playful session. We talked about the band's history; the difference in the
recording process between now and then and also about the changes in their audience.
What amazes me most is that after all of these years, Curt Kirkwood's voice is still as tender and clear as it was in the beginning of his career.
Songs performed: "Lantern", "Damn Thing" and "Spider In The Spaceship".
Guests
Resources
5 Photos
Meat Puppets bassist Cris Kirkwood

(MPR Photo / Nate Ryan

)

Meat Puppets lead vocalist and guitarist Curt Kirkwood

(MPR Photo / Nate Ryan

)

Meat Puppets drummer Shandon Sahm

(MPR Photo / Nate Ryan

)

Meat Puppets

(Photo courtesy of the artist

)

Meat Puppets

(Photo courtesy of the artist

)
View 4 more photos